Chicken Vegetable Stir-Fry.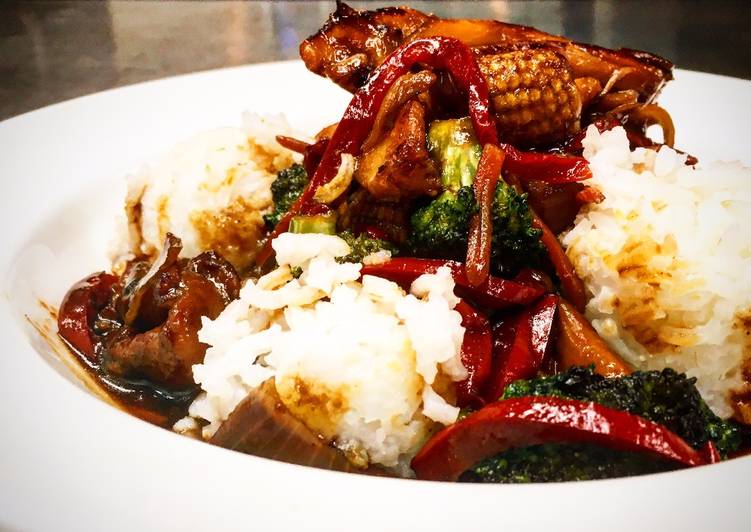 You can have Chicken Vegetable Stir-Fry using 18 ingredients and 6 steps. Here is how you achieve that.
Ingredients of Chicken Vegetable Stir-Fry
It's 1.5 cups of white rice.
It's 3 cups of water.
Prepare 3 ounces of soy sauce.
You need 1/4 cup of brown sugar.
You need 2 ounces of hoisin sauce.
Prepare 1 tablespoon of cornstarch.
Prepare 1/2 teaspoon of powdered ginger.
It's 4 cloves of minced garlic.
Prepare 1/4 teaspoon of red pepper flakes.
It's 3 of skinless, boneless chicken thighs,thinly sliced (about 1 pound).
You need 1 tablespoon of sesame oil.
It's 1 of red bell pepper, cut into julienne.
You need 1 cup of baby corn.
Prepare 8 ounces of broccoli, small florets.
It's 1 cup of julienne carrots.
Prepare 5 of shittake mushrooms, stems removed and thinly sliced.
It's 1/2 of each red onion, cut into large chunks.
You need 1 tablespoon of sesame oil.
Chicken Vegetable Stir-Fry instructions
1. Bring rice and water to a boil in a saucepan over high heat. Reduce heat to medium-low, cover, and simmer until rice is tender, and liquid has been absorbed, 20 to 25 minutes..
2. Stir to combine soy sauce, brown sugar, hoisin sauce,corn starch ginger, garlic, and red pepper flakes to make the marinade.Coat chicken with marinade and refrigerate for at least 30 minutes..
3. Heat 1 tablespoon sesame oil in a large skillet over medium-high heat. saute the Red bell pepper, baby corn,broccoli, carrots, shiitake mushrooms and red onion until just tender, about 5 minutes. Remove vegetables from skillet and keep warm.
4. Remove chicken from marinade, reserving the marinade it will be used to make the sauce..
Heat 1 tablespoon sesame oil in skillet over medium-high heat. Cook the chicken about 2 minutes per side; add the vegetables and reserved marinade to skillet..
5. Bring to a boil; cook and stir until chicken is no longer pink in the middle and vegetables are tender, 5 to 7 minutes. Serve over rice..