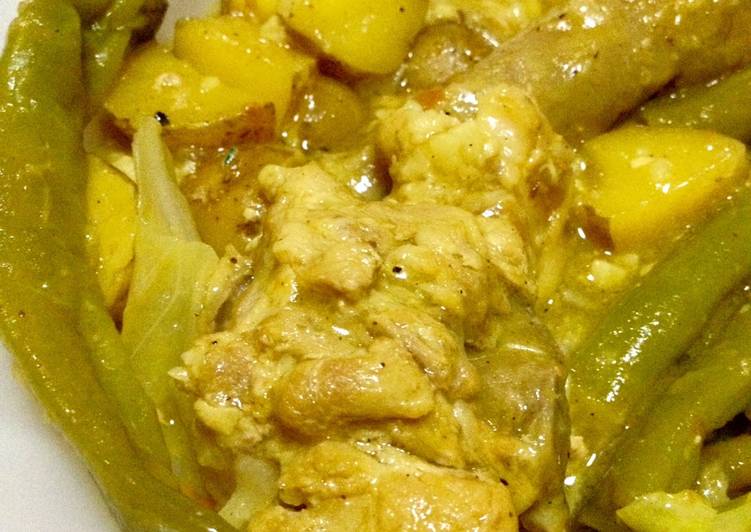 Mild Pork Curry with Coconut Milk (simple & easy). Great recipe for Mild Pork Curry with Coconut Milk (simple & easy). This easy Filipino curry is very mild (add chilies to add heat!), but fills your house with a nice curry aroma. Satisfies your curry and coconut craving too!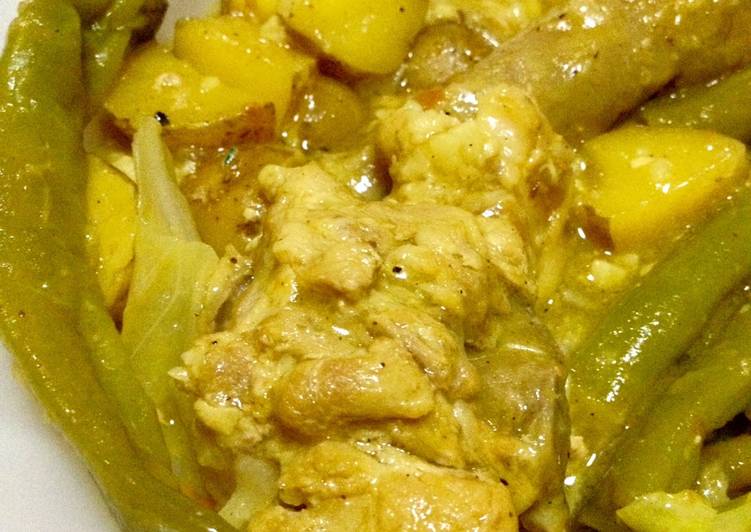 The coconut cream gives a rich curry, but may curdle a little during cooking. Heat wok to medium high, add oil, add curry paste, stir fry until heat hits you, up heat and add pork, continue stir frying, for a couple of minutes, then stir in coconut milk, toss in lime zest, ginger and garlic, bring to boil, cut heat and simmer until pork is tender. Add the onion, garlic, ginger, curry, cumin and turmeric and cook over low heat, stirring, until fragrant and the onion is softened, about. You can have Mild Pork Curry with Coconut Milk (simple & easy) using 16 ingredients and 10 steps. Here is how you achieve it.
Ingredients of Mild Pork Curry with Coconut Milk (simple & easy)
It's 250-300 g of Pork tail end, or any part with bone (par boiled).
It's 1 Tbsp of cooking oil.
Prepare 1 of medium Onion, coarsely chopped.
You need 5 cloves of Garlic, coarsely chopped.
You need 1 knob of Ginger, minced.
It's 1 of tomato (optional).
You need 1/8-1/4 portion of pork broth cube or powder (bullion).
Prepare 1.5 Tbsp of Curry powder (use regular spoon).
Prepare 200 ml of canned coconut milk (fresh would be better).
You need 1 squeeze of lemon or small calamansi.
It's 5 of baby Potatoes, quartered.
It's 1 handful of Green Beans, tips cut & halved.
Prepare 1/8-1/4 of Cabbage.
It's 1 stalk of leafy greens (optional: celery stalk, mustard leaves, pechay, bok choy).
Prepare of Chilies or capsicum (optional).
It's to taste of Salt & Pepper.
Depending on the cut of pork the butcher used, the cooking time will vary. Boneless chicken breast simmered in a rich and flavourful tomato and coconut sauce, with mild spices that give it an earthy touch, this chicken curry is a perfect midweek dinner recipe for the whole family. Here's a really terrific Coconut Curry Sauce with beautiful depth of flavour yet is made with everyday spices. It's an Indian style sauce - outrageously addictive, and pairs beautifully with chicken, vegetables and legumes.
Mild Pork Curry with Coconut Milk (simple & easy) instructions
Set aside par boiled-boiled pork or meat of choice. In a pot, heat oil. In low heat, add onions, then ginger, then garlic, a minute apart. Sauté til onions are translucent..
Add the sliced tomato. Mix in. Let the juices come out..
Turn heat to medium. Add the boiled pork into the pot. Try to scoop the onion mix on top of the meat so it can brown a little, without burning the onions etc. Add dash salt, sprinkle with freshly cracked pepper. Try to do both sides, but not necessary. Drop in the 1/8 of a pork broth cube or powder..
You'll notice the meat juices coming out, fats rendering. Add 1 squeeze of lemon juice or 1 small calamansi (not too much, as it has strong taste). Taste it. Season with salt and pepper according to your taste. Add the remaining portion of pork broth cube if desired. Lower the heat. Drizzle the curry powder onto the pot and cover..
You'll start to smell the curry aroma. Mix lightly with a spatula. After 5 minutes, add the coconut milk then cover. Simmer for 10 minutes..
Uncover, add the sliced potatoes, try to put it at the bottom of the pot. Let it simmer in low heat, covered, 15 minutes..
Uncover and if your sauce is too watery, add a little cornstarch mixed in a little water. Mix it in the sauce. Drop in sliced green beans (and capsicum, if desired) on top. Let it sit on top, no need to stir. Cover. Continue simmering 5-7 minutes..
Add your chili / chilies (chop if you want real heat, submerge in sauce) and leafy greens on top. Cover and continue simmering 5 minutes..
By this time, your pork or meat of choice should be very tender. Sauce with a good consistency, not watery. Check potatoes, they should be cooked. Mix in veggies carefully with spatula. To cover them with sauce. It's ready for plating! (Plated photo below, serve sauce separately or scoop over on the dish).
Garnish with parsley sprig or chopped green onions, sprinkle on top. (Optional) Serve with hot steamed rice or flat bread for dipping in sauce..
I've used made a Coconut Curry with pumpkin, lentils and cashews here, but see the recipe for the "formula" to use it for what you please! Heat oil in a large saucepan over medium-high. Break up pork with a spoon or spatula and continue to cook, tossing and breaking up. It serves six, so cook once and eat twice! i love this recipe because I can serve it to my family for dinner and have plenty of leftovers for lunches. It's spicy without any heat, so it's a great intro to new flavours for those with mild palates.